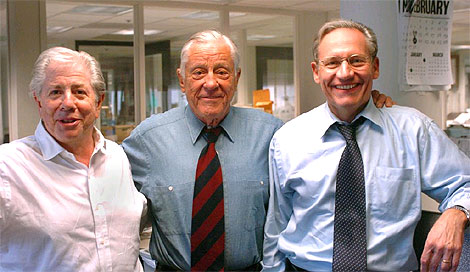 Me encantan -cada vez más- las historias de periodistas, de reporteros. La pasión por el Periodismo. Si quien las cuenta es Ben Bradlee, exdirector del mítico The Washington Post, diario que visité aquella tarde de junio de 2003,  el placer es eterno. La vida de un un periodista, editado por El País Aguilar en 1996, en traducción de Irene Hernández Velasco, actual corresponsal de El Mundo en Roma, es un libro crucial para entender este oficio. Aquí van cinco lecciones de Periodismo de Bradlee:
1) "La plena alegria y el enamoramiento que se siente como corresponsal extranjero es difícil de explicar y aún más difícil de exagerar" (Página 200).
2) "Escucha a un hombre que nunca será el mismo después de haber viajado a Ruanda y conocerás el poder de la historia vista con datos de primera mano" (Página 201).
3) "A mí me gustaban las historias sobre la Prensa, porque me gustaban las historias sobre la Prensa, porque me gustan los periodistas y los periodistas con los que hablaba siempre estaban algunos peldaños de la escalera por encima de mí" (Página 230).
4) "En el mundillo del periodismo todos conocen la historia del director que dio la noticia de la primera bomba atómica en un pequeño artículo entre los anuncios de bragueros, y yo tenía miedo de hacer lo mismo" (Página 335).
5) "En algún momento, a principios de la primavera de 1971 empezamos a oír rumores de que el New York Times estaba trabajando en una bomba, una exclusiva informativa que nos iba a reventar en la cara. Noticias como esa producen una sensación muy incómoda en el estómago de un jefe. Que te adelanten y te golpeen con una historia es ya bastante malo de por sí, pero esperar a ser golpeado es sencillamente insoportable" (Página 365).
Foto: Carl Bernstein, Ben Bradlee y Bob Woodward en la redacción de The Washington Post (AP).